Snaptrends Software Features
Snaptrends is built with you in mind. No matter your industry, our technology is so customizable, it can find exactly what you need across multiple global social media networks in your specified location in a matter of minutes. Every feature of our software was created to help you make sense of social media data with data analysis and visualization, and an intuitive user interface.
What Do You Get with Snaptrends?
---

Trends and New People
As conversations evolve over time, Snaptrends helps you instantly discover new trending topics and brand influencers related to your previously saved searches. With powerful behind-the-scenes analytics, Snaptrends also reveals why this social activity is meaningful.
---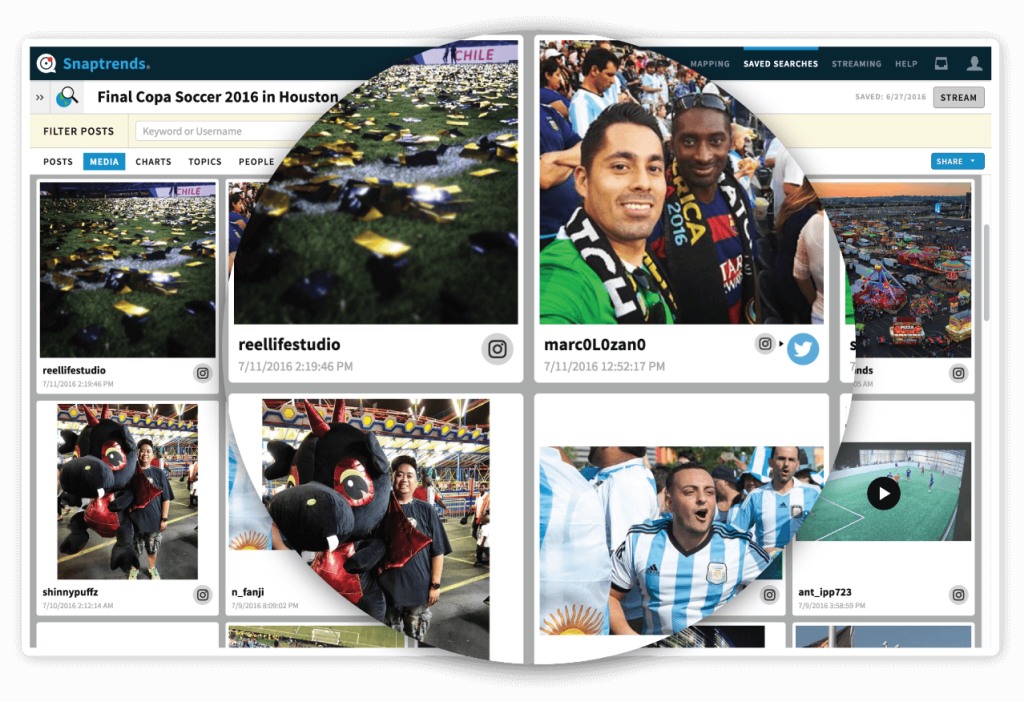 Media Mosaic
A picture is worth a thousand words and we've made it easy to scroll through photos and videos using the Media Mosaic. The Media Mosaic displays social media in a visually engaging way that scales to fit devices of any size.
---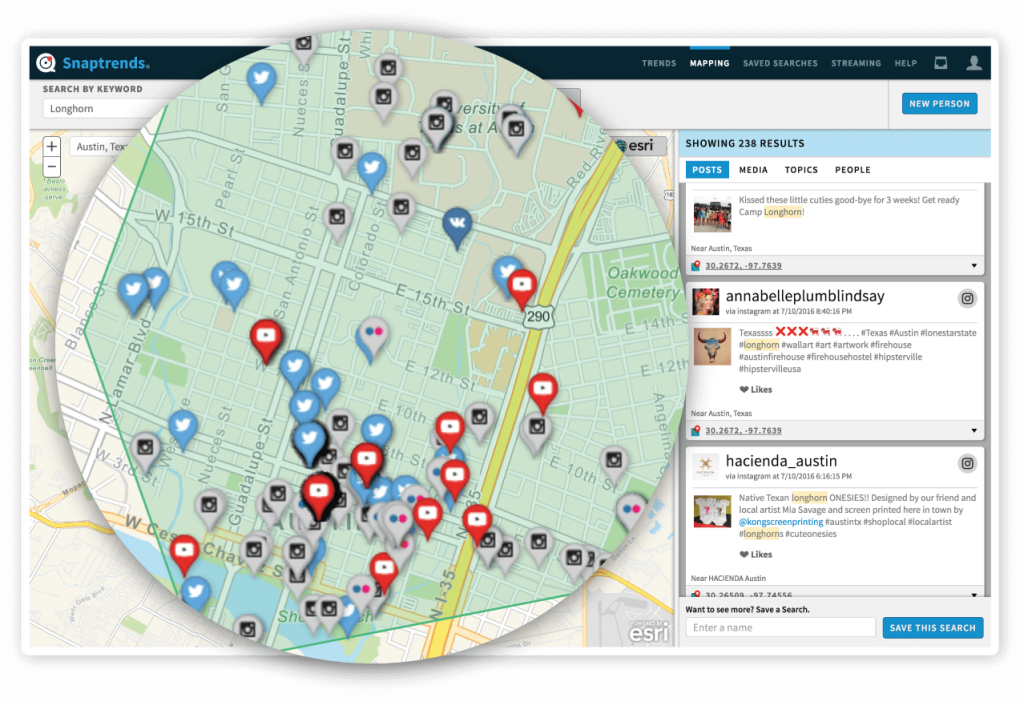 Comprehensive Search
Snaptrends simplifies the process of filtering through the vast social universe to find what matters to you. Our proprietary algorithms and processes paired with the ability to focus searches based on social networks, locations and keywords ensures you hear the full spectrum of social conversations.
---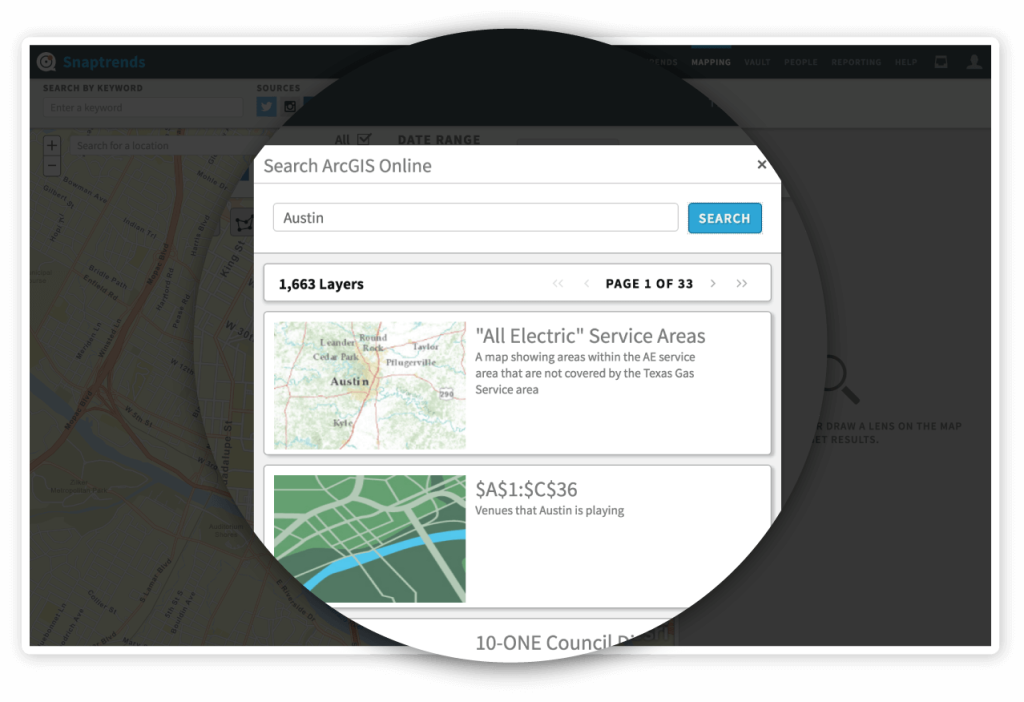 Informational Overlays
Incorporate a variety of mapping overlays to get a more in-depth understanding of an area of interest. With additional geospatial information overlaid on your social media map. Identifying geosocial and geographic trends becomes simpler.
---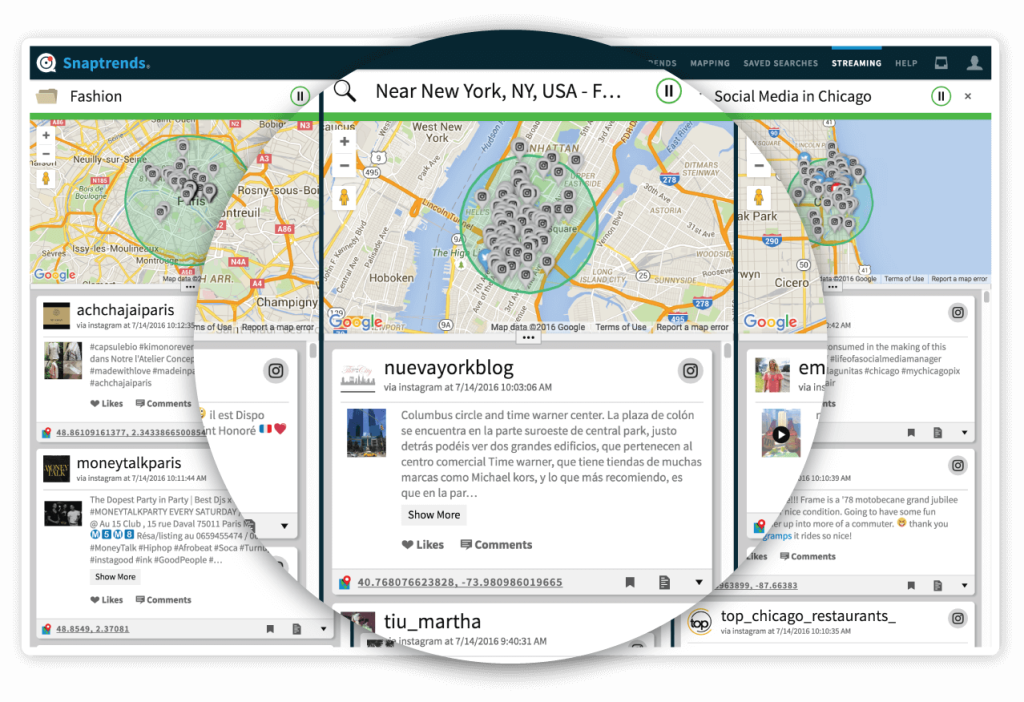 Social Media Streaming
View social media posts and conversations as they happen over locations of interest. Using customizable alerts and geo-specific features, Snaptrends have made it easy to quickly identify relevant social activity in real time.
---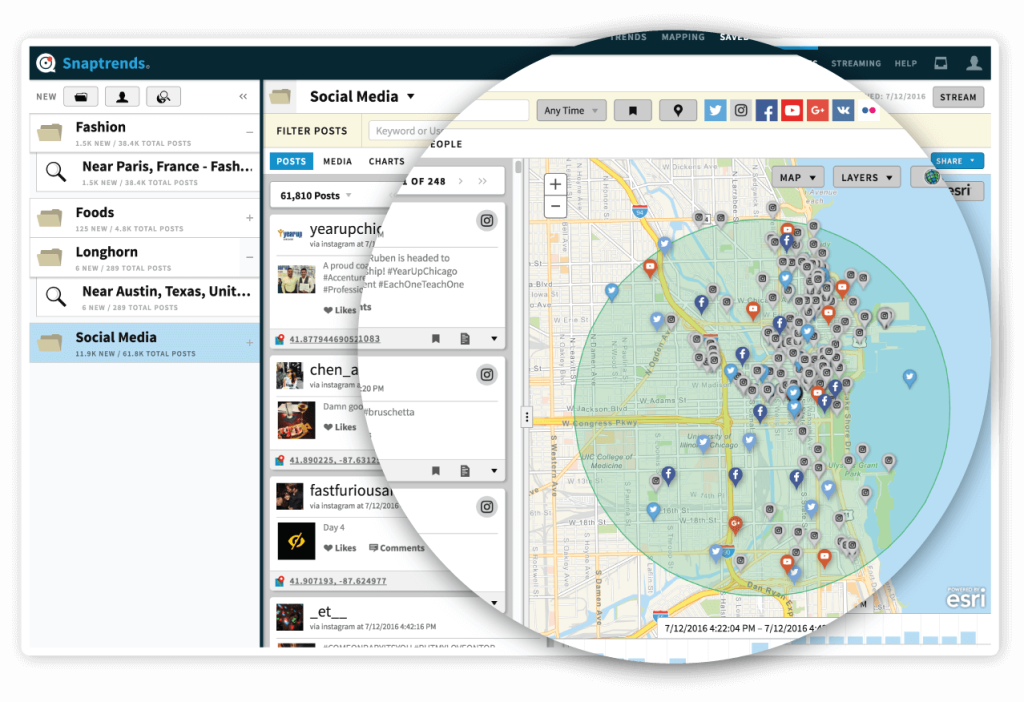 Saved Searches
Easily organize and access saved searches and profiles all in one place using folders. Snaptends makes it easy to view and analyze single or multiple searches at once as well as share important information with other Snaptrends users.
---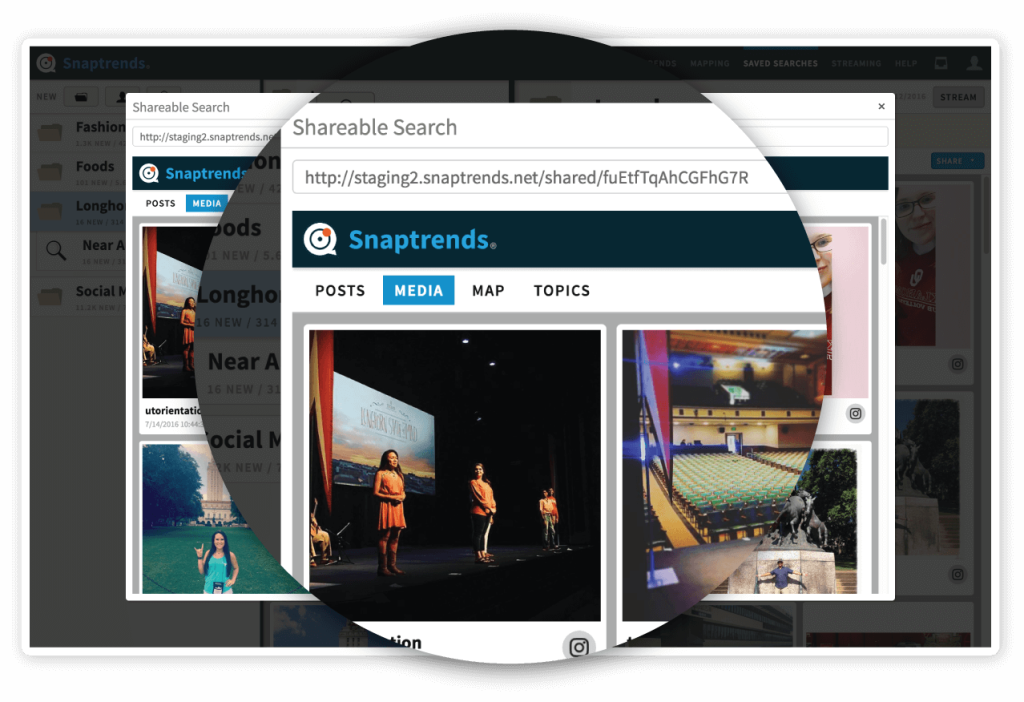 Shareable Links
Quickly share saved social media data across teams and organizations with Shareable Links. The unique URL can be generated with the click of a button and accessed on any device and browser.
Data Analysis and Visualization
---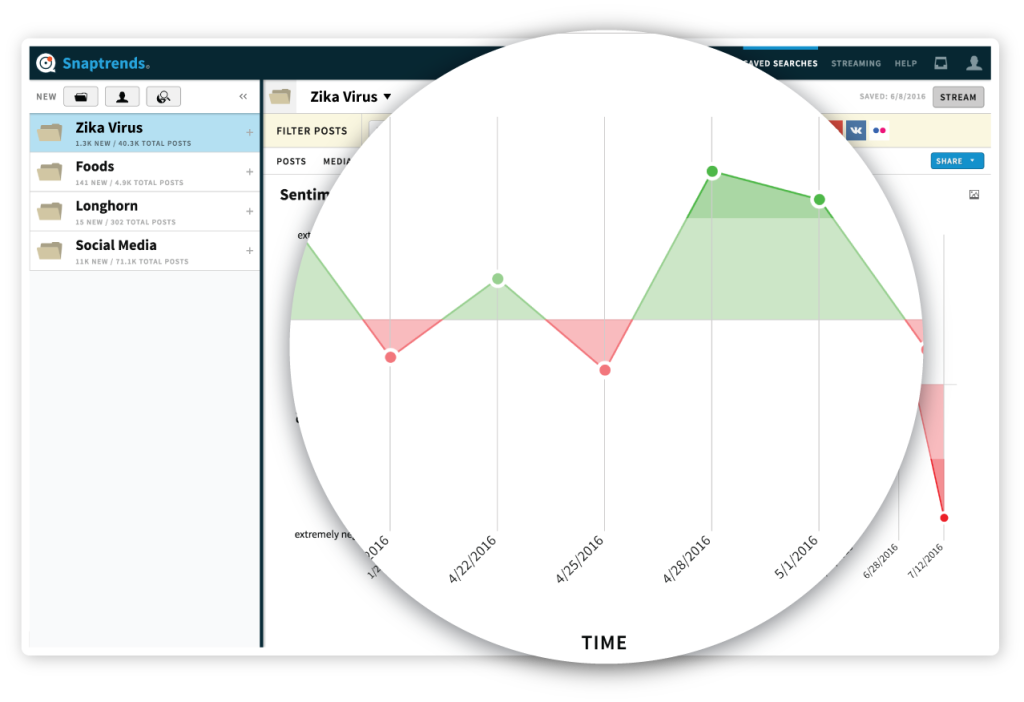 Automated Sentiment
Use our proprietary natural language engine to understand the tone of the conversations you're watching so you can respond appropriately. Decipher intent and sentiment automatically to save time and reduce risk.
---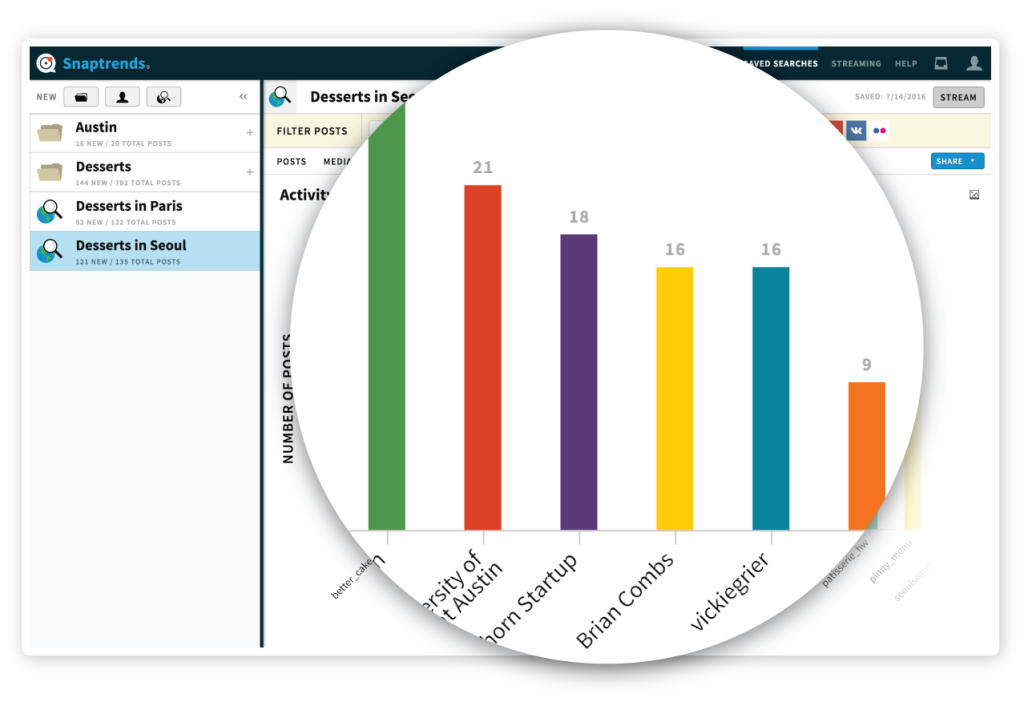 Data & Trend Analysis
Assimilate social big data efficiently and graphically using our automated suite of analysis and visualization tools. Reveal information such as trending topics in an area, social activity over time and more with interactive charts and graphs.
Intuitive User Interface
---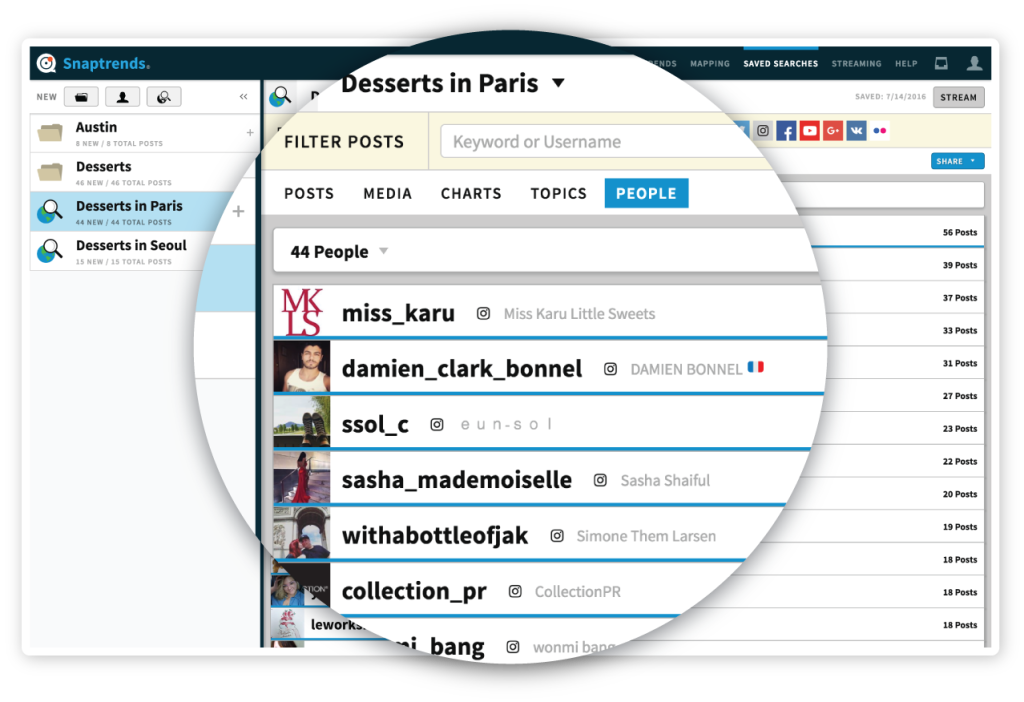 Advanced Filtering
Use advanced filtering options to quickly find the most relevant insights. Easily segment social activity by network, geographic locations, keywords and more.
---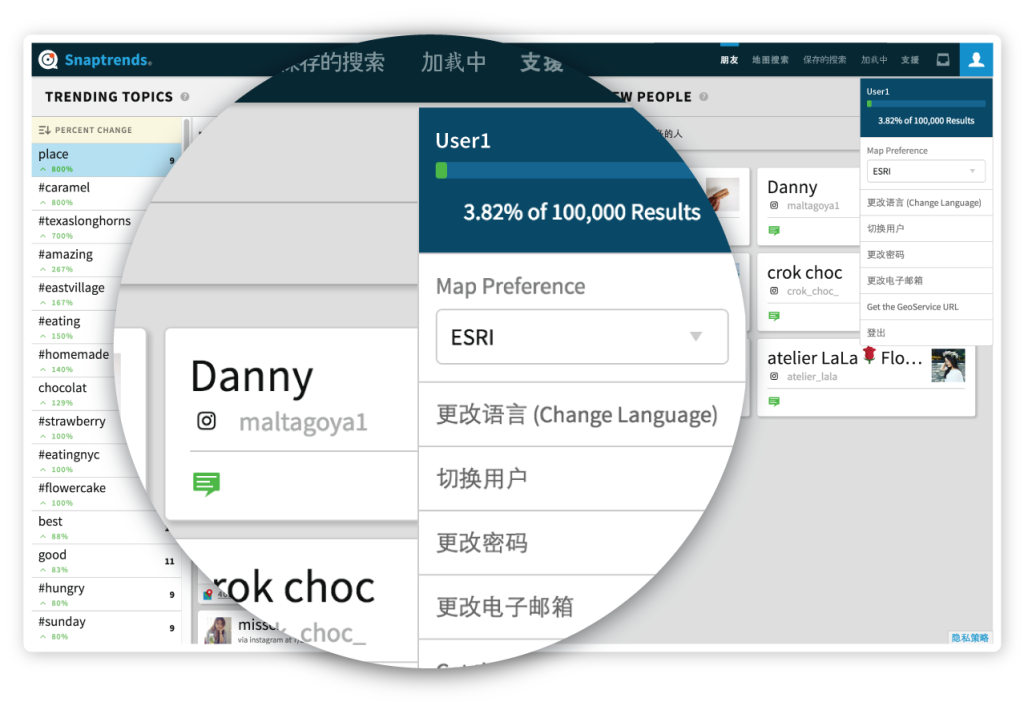 Language Translation
Discover social activity in your language of choice. Our software is language independent and can translate in more than 80 languages so you can filter language-specific results with ease.