Snaptrends unveils new Time Analysis chart to visualize social media data like never before.
Snaptrends now provides a rich, dynamic and actionable chart enabling temporal analysis. Visualizing activity related to patterns in time is a critical feature for any social media intelligence tool. The Time Analysis chart provides the insight analysts need to see patterns and make decisions quickly.
Patterns around post volume can now be visualized and broken down by time-of-day and day-of-week. Analysts can now discover trends that would otherwise have to be tediously determined. The Time Analysis chart not only visually shows the volume of social media data, but is interactive and allows for quick drill-down to see what activity accounts for the volume. After drilling-down, one click returns the user right back to the chart for high-level analysis, providing continuous workflow.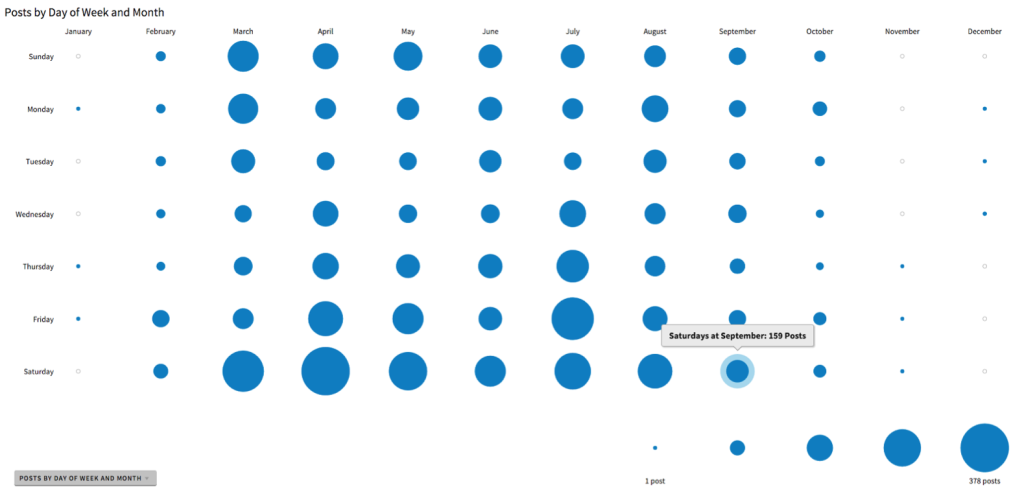 Some questions that can be answered using the new Time Analysis chart include:
What day of the week do my customers discuss my brand the most?

Where is an audience most likely located based on when they post?

What time of the day is the most active inside my region of interest?

What are people talking about at certain times of the day?

What time of the day should I add more staff to improve customer service?
This new feature is rich with possibilities. Imagine a political campaign analyst wanting to hone in on the posts before and after a debate. Using the new Time Analysis chart, the analyst can view the volume and post content easily to determine viewer engagement and opinions.
Using the Snaptrends Time Analysis chart allows users to leverage time trends in order to gain valuable insights and make timely decisions.
Request a product demo to see this chart and other features exclusive to Snaptrends.