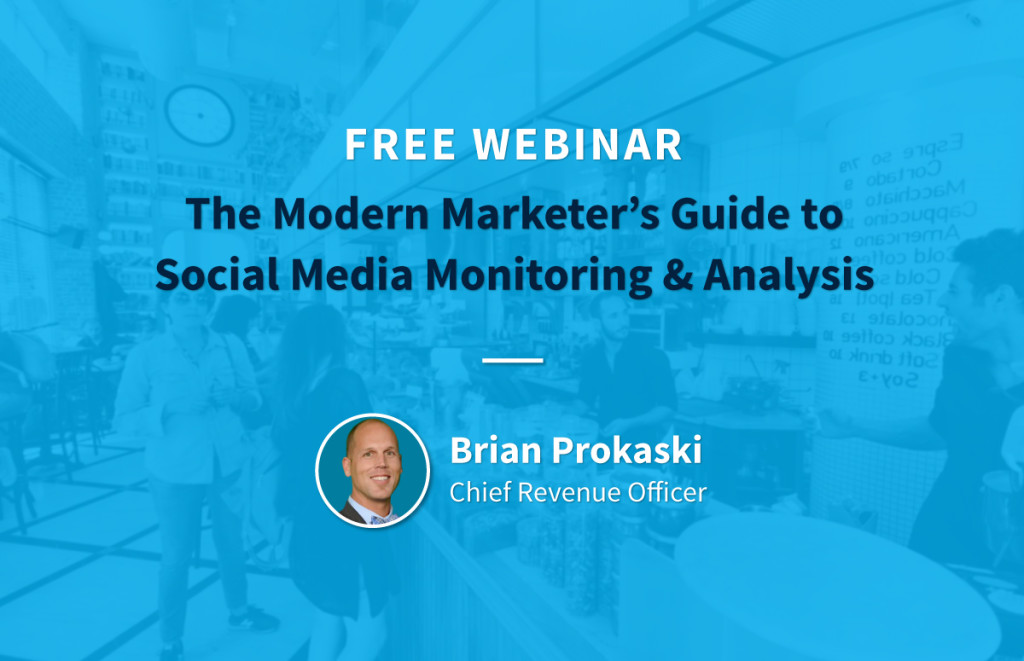 Hopefully you were able to join us for our most recent webinar, "The Modern Marketer's Guide to Social Media Monitoring and Analysis". If not, we invite you to watch the On-Demand recording. Additionally, to help you easily digest the main takeaways from the webinar, we've put together this blog to recap what we learned.
By monitoring social media for mentions of keywords around a brand or the competition at any specific location, marketers can better understand their target audience and improve marketing efforts for greater success. The marketing team can capitalize on customer sentiment, complaints or compliments, periods of time when activity is the highest, and many more predictive trends.
Lesson 1 – Not Paying Attention to Social Media Analytics Means You're Missing Out on Essential Insights
If you're not already paying attention to social media data in some way, shape, or form, you should be. The Huffington Post asserts that, "People—from all points of view—may complain about social media, but no one questions its influence". However, it is important to understand specifically why social media is so influential, which can be explained by the 3 vectors of big data: Volume, Velocity, and Variety. The number of posts (volume), the platforms people are posting on (velocity), and the information that people are posting (variety) all are constantly increasing, leading to more social media data than ever. Forbes explains that we've come to the point where, "…data is too big, moves too fast, or doesn't fit the strictures of your database architectures. To gain value from this data, you must choose an alternative way to process it."
The world of social media data is like a dirty windshield that you can't see through. You're driving along and don't know where to turn or where the road leads. Suddenly, along comes Snaptrends like a windshield wiper and suddenly the dirty windshield becomes a clear landscape of endless possibilities. The Huffington Post goes on to say that, "By way of example, social media has become transformative within the fields of art and fashion, consumer products, and politics," meaning that if you're not exploiting social media's treasure trove, then you're missing out big time.
Lesson 2 – Snaptrends Analytical Tools Are What Sets Us Apart From Our Competition and Can Help You Do the Same
Now that you know why you need to be paying attention to social media, let's take a look at specific examples of how it can help you accomplish your marketing goals. Below, we'll highlight a few of our many analytical tools:
Streaming is one of Snaptrends' most versatile features, where users can stream a constant feed of real-time social media posts from up to six different lenses or folders simultaneously. This is perfect for monitoring events that may be happening in multiple locations at the same time, for example at the Olympics or at Apple stores across the world on the date of a big release. Additionally, an organization can find this feature useful if it is advertising in various stadiums across several different sports leagues like the ones shown in the image above (Darrell K. Royal in Austin, Fenway Park in Boston, and The Coliseum in Los Angeles). The streaming feature can help marketers answer important questions such as, "Which location is drawing the most attention?" and "What topics are trending at each location?" The ability to pull instantaneous data is particularly helpful for organizations that need insights as quickly as possible to make informed decisions in-the-moment.
Social media networks continue to arise and grow, making it important for marketers to know which platforms are being used the most and which can help them gain traction or generate interest. The Activity By App tool sorts social media posts based on which application the user posted on for a given keyword search. Recently, while using an Amazon keyword search, the Activity by App chart revealed a trend that would benefit the marketing team at Amazon. As you can see, most users who posted about Amazon were using Instagram to voice their opinions. This should indicate to Amazon that advertising on Instagram would be the best allocation of their marketing expenditures, as opposed to Twitter or Facebook. By discovering trends in how and where users are posting about your brand, you'll ultimately understand more about your customer base and have the ability to capitalize on that knowledge.
Pictured above is an Activity Over Time chart, optimized to monitor social conversations around college football. As seen in the chart, the first week of the college football season garnered the most attention or "mentions" by a significant amount. Week 2 and Week 3 of the season have similar amounts of activity, but both experienced far less activity than Week 1. This type of analysis can signal to the marketing department that if they want to market their product during college football games or in association with college football, their efforts would be best utilized if they allocate them towards Week 1. Marketers can use this type of strategy to effectively plan advertisements across any industry at events across the world like fashion weeks, business conferences, and political events, just to name a few.
Lesson 3 – Our Sentiment Over Time Tool Is The Marketer's Best Friend
Knowing what consumers think about your brand, product, or service and why is essential to achieve marketing success. However, reviewing thousands to millions of posts and subsequently gauging the overall mood of those posts would be quite a difficult process and nevertheless extremely tedious. Using the Sentiment Over Time tool, Snaptrends allows users to assess degrees of positive and negative sentiment surrounding a keyword search based on an established, highly performant classifier. This is a screenshot of the sentiment tool the week after Amazon announced a free Audible subscription for Amazon Prime members. Clearly, this partnership can be viewed as a success due to the overwhelmingly positive reaction. The Sentiment tool, among others, can be especially helpful for tracking which partnerships, products, or advertising campaigns work and which do not.
To get an in-depth look at more ways for marketers to use Snaptrends, make sure to check out the Webinar if you haven't already and take a look at our Marketing Brief!