Phelps and Bolt Dominate the Competition and Social Media Conversations at the 2016 Olympics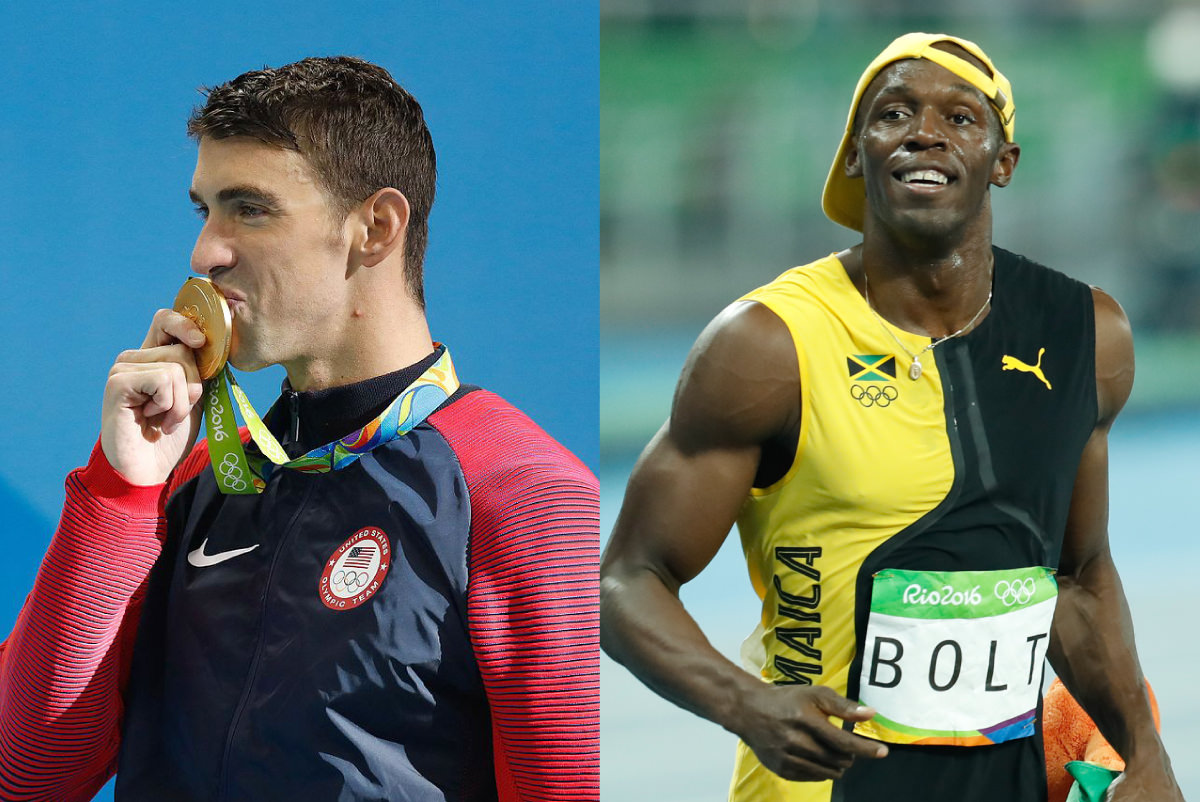 *Part 2 of our 2016 Olympic Blog Series*
The Rio 2016 Summer Olympic Games brought together extraordinary athletes who play many different sports and represent various countries across the world, but it also marked the culmination of the two legendary Olympic careers of Michael Phelps and Usain Bolt. Participating in the Olympics for the last time, Phelps and Bolt once again exceeded expectations and ignited inspiration as they dominated their competition.
[Infographic] Social Media Stats from the Rio 2016 Olympics
Bolt went a perfect 3/3 in the races he competed in, achieving a third consecutive three-peat and defending his crown of "Fastest Man in the World". Meanwhile, Phelps participated in 6 events, earning five golds and one silver medal, extending his record medal count to untouchable heights. They are truly excellence embodied and their performances speak for themselves, but beyond the media flashes and fanfare, what did social media reveal about these two athletes? Before the Olympics began, we prepared optimized keyword searches for both Phelps and Bolt to monitor and analyze social media trends surrounding them. Let's take a look at what we found:
Activity Over Time
A side by side comparison of the Activity Over Time charts for Phelps and Bolt show that their social media activity took almost exact opposite trajectories. Phelps' chart increases to a peak on 8/11 and then slowly dwindles throughout the rest of the Olympics, whereas Bolt's chart commences with small amounts of activity before ascending towards the end of the Games. This activity is explained simply by the fact that Phelps' events took place at the beginning of the Games and Bolt's races followed per the predetermined Olympic schedule. What's more interesting to note is the time at which each athlete received peak mentions on social media. For Phelps, that occurred on 8/11, when he won his 22nd gold medal in the men's 200m individual medley and his 4th gold medal over just four nights in Rio. For Bolt, the moment came on the 8/18 as he won his third consecutive gold in the Men's 200m race, keeping him undefeated in individual Olympic races.
Word Bubbles
Another one of the tools within the Snaptrends application is the Word Bubble tool. Phelps and Bolt interestingly have a lot of the same words within their respective Word Bubbles. Words like "greatest", "fastest", and "medals" account for a few of the medium sized bubbles in each athlete's chart. Additionally, they were mentioned together in social media posts frequently enough that they both appear as individual bubbles within each other's Word Bubbles. The main difference is that Bolt has a few peculiar word bubbles, for example, "bedroom", "photos", and "birthday". This is because near the end of the Olympics on Bolt's birthday, a woman posted a picture in bed with the track runner, causing an uproar in Rio and his home country of Jamaica. However, this apparently did not affect the masses' opinion of him, because his Sentiment chart is entirely green or positive.
Sentiment
As expected, Phelps also has an overwhelming positive Sentiment chart, confirming what we already knew, that both athletes are revered throughout the world. Social media reiterates both the incredible talent and extreme popularity of Bolt and Phelps, but perhaps this is the last time they will receive this level of recognition in their athletic careers. Both have said that this is undoubtedly their last Olympics (Phelps, Bolt). The Summer Olympic Games only come every four years and for the first time since 2008 in Beijing, it will come without Phelps and Bolt. While we're sad to see them go, it's clear that they won't be forgotten.
To find out more about social media trends at the Olympics, read our blog post, "Rio Olympic Games Run Smoothly Amid Fears of Zika Outbreak"