The Geospatial Industry is Growing at a Tremendous Rate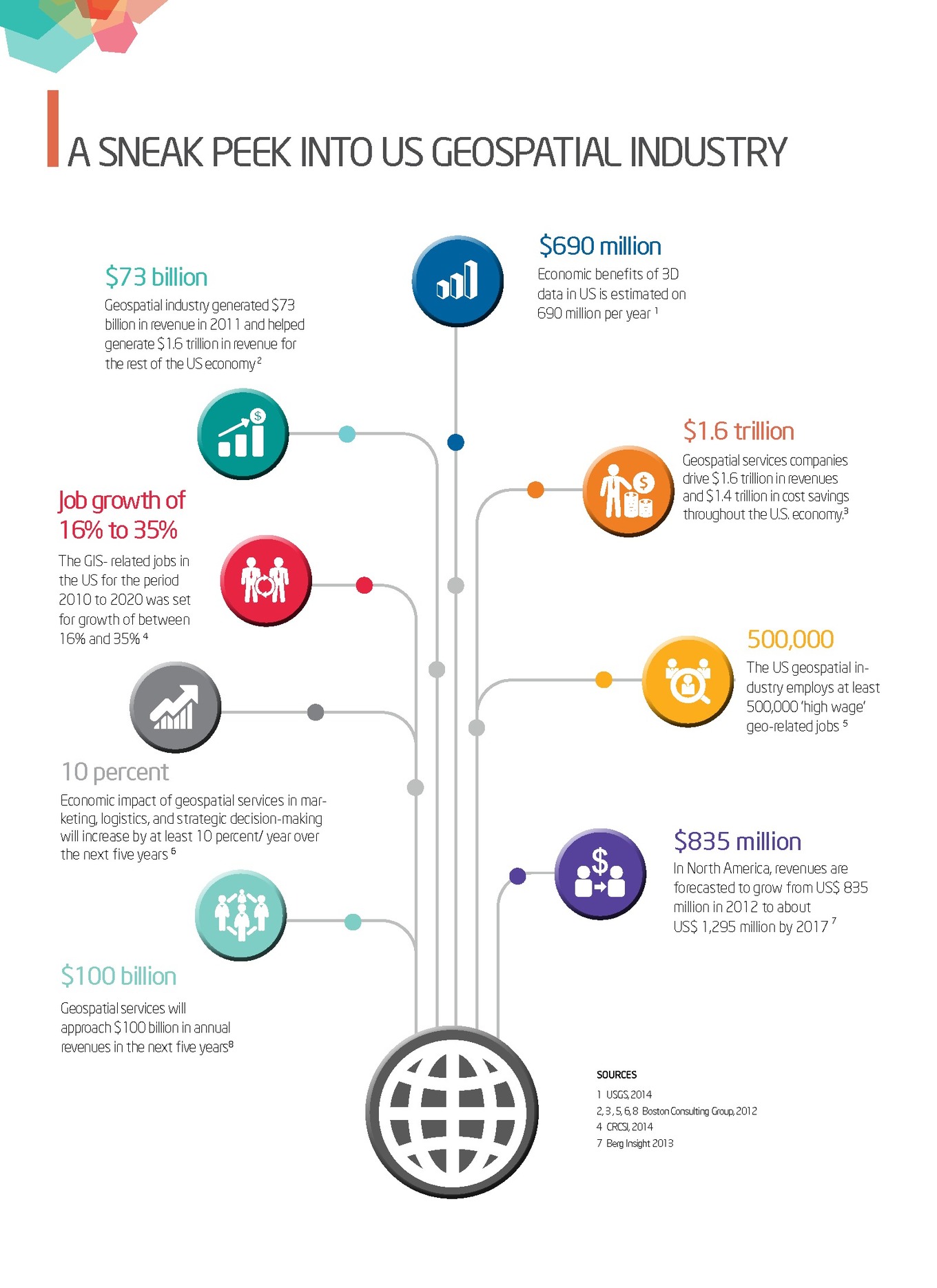 Here is a summary of the US geospatial industry, revenues, economic benefits and job market scenarios.
The Rapid Rise of the Geospatial Industry
As if you needed convincing otherwise, the Geospatial industry is booming. A recent report by MarketsandMarkets estimates the geospatial analytics market will grow from $27.42 billion in 2015 to a whopping $72.21 billion by 2020. In case you're wondering, that's a 21/4 percent compound annual growth rate.
Of course, we're not surprised. Take a look at this interesting infographic and trends report from the upcoming GeoBuiz Summit. A few stats stood out:
The Geospatial industry generated $73 billion in revenue in 2011 and helped generate $1.6 trillion in revenue for the rest of the US economy.
Geospatial services companies drive $1.6 trillion in revenues and $1.4 trillion in cost savings throughout the US economy.
Economic impact of geospatial services in marketing, logistics, and strategic decision-making will increase by at least 10 percent year over the next five years
The report covers the entire geospatial industry, including drones and nano and micro-satellites, but location-based social media discovery is part of this growing community.
It seems like we are hearing about this exploding industry on a daily basis. Earlier this month, we posted a similar blog referencing "The Changing Geospatial Landscape," yet another indicator of just how fast and extensive this growth really is. Another old blog does a great job of explaining how the geospatial industry began and its continual evolution. It was written in 2008, illustrating just how far we've come in a relatively short amount of time. The author had no way of knowing just how massive the industry would become and the impact it would have on the US economy and the world at large.
Even with the blistering pace of technology, it's safe to say this industry has yet to see its peak. We have opened the proverbial Pandora's Box and there's no telling where these new capabilities will take us. One thing is for certain, the geospatial industry, particularly with regards to geospatial intelligence, is an exciting place to be.